Carmen Testa (Italy / Rome)
Carmen Testa - an artist from Rome who understands her craft with great attention to detail and implements it with great precision.
"Graduated in Art from the Fine Arts Academy in Rome, then attended the prestigious School of Medal Art in Rome, a school affiliated with the State Mint, followed by a two-year scholarship where I learned the techniques, particularly in relation to design and learned how to make prototypes for medals and coins.
I also work in goldsmithing because at the end of the scholarship I won an internship in a goldsmith workshop and I like to combine jewelry with coins, like details and consider coins as small jewels."

1. How would you describe your job yourself?
My work is a constant challenge, the best thing for me is being able to give shape to ideas. When we do the work we enjoy, we are satisfied and proud of what we create. I try to put myself into all my work, from stylistic precision to attention to detail.
2. What was your first thought when you heard about the reason idea of ​​myth?
As soon as they conveyed to me the topic of the myth of Europe, I was immediately captivated, the myths have a timeless charm and are full of interesting and never trivial ideas, moreover, the mythology that I have deepened has always interested me in the studies carried out.
3. What was the biggest challenge or difficulty in this job?
If we commit ourselves, nothing is impossible, each job is a challenge to ourselves and spurs us to overcome each obstacle in the best possible way, the challenge that fascinated me the most about this work was to actualize the myth, into it to immerse ourselves in our time without distorting its meaning.
4. What is your dream motif?
My dream? It means living the life I live, living each day to the fullest, facing every challenge with commitment and a smile.
5. What is your greatest personal achievement as an artist?
Undoubtedly, it was a great satisfaction for me to design and create the Papal Official Medal, chosen by the Pope both in 2016 and in 2020 among the many projects presented.
6. Would you like to reveal something about your next project?
My next work is an extremely interesting project because it has its roots in the past but is more relevant than ever.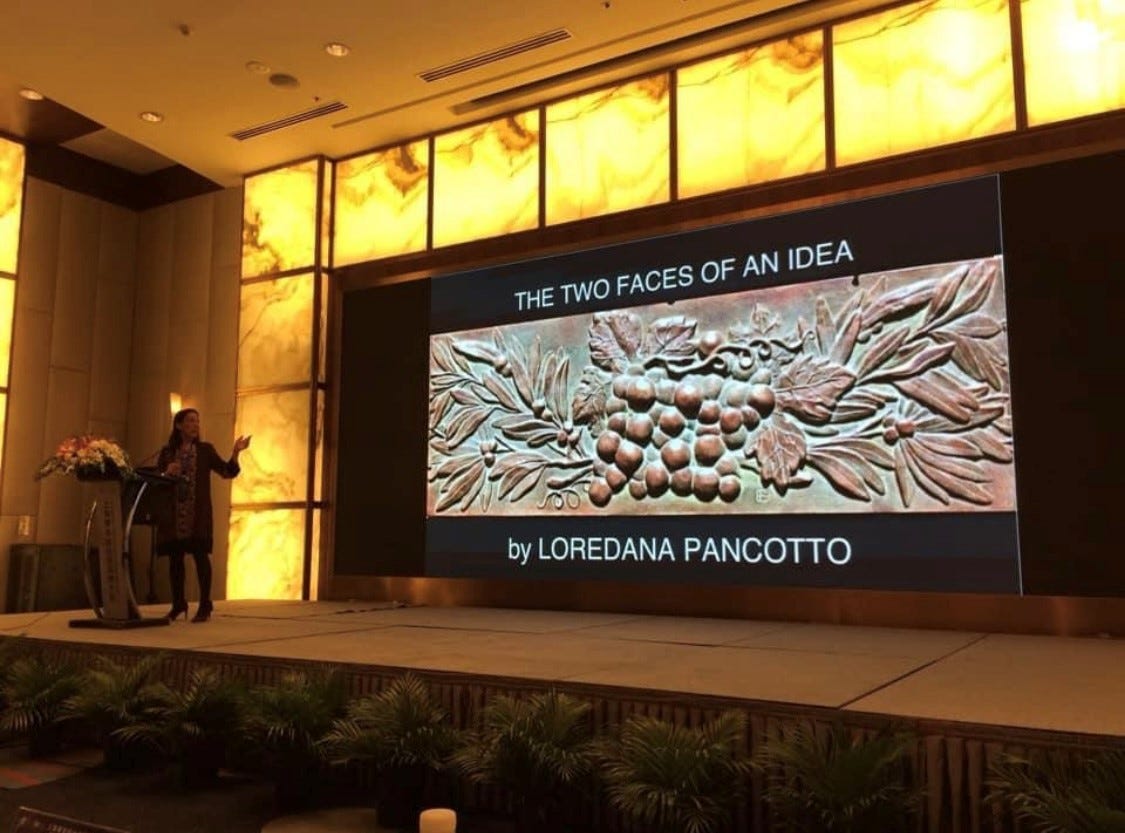 Loredana Pancotto (Italy)
Loredana Pancotto - The Artist of Liberty 2021:
She is an experienced sculptor, her motifs are renowned in Italy and around the world, she designs and draws with a lot of passion and precision.
Loredana Pancotto was born in Rome in 1959, she began her art studies at the "Sant'Orsola" (Liceo Artistico Sant'Orsola) art school in Rome and then improved her artistic skills at the "Pantheon Culture Institute" (Istituto di Cultura Pantheon) and at the School of Medal Art (Scuola dell'Arte della Medaglia) run by the Italian State Mint - where she graduated in 1983.
During her visit to the School of Medal Art, she was commissioned to design her first medal, and she also took second place at the first art medal biennale (Prima Biennale della Medaglia d'Arte).
During her career she was a teacher at an arts high school for around ten years. In addition to designing medals, she realized countless graphic works and paintings and repeatedly experienced new techniques.

1. How would you describe your job yourself?

My job is a gift to myself, it's a constant challenge, should convey emotions, it should be the hands and the heart of the customer, is knowing how to get excited.

2. What was your first thought when you heard about the motive idea of ​​freedom?

When the idea occurred to me to realize the motif of Liberty, the thought is a mother earth, protective and powerful, but sweet with her "children".

3. What was the greatest challenge or difficulty in this work?

The hardest part was understanding exactly what the customer was thinking. And then the difficulty in drawing: I don't draw on the computer, drawn entirely by hand, including fonts and textures.

4. What is your greatest personal success as an artist?

Having made a whole series of coins (10 circulation coins) for the State of San Marino and other coins is a great achievement for me and my colleagues, circulation coins are the highlight, but also many medals for Pope John Paul II and medals for important prizes of the world.

5. Would you like to reveal something about your next project?

The next project is top secret! It's an important topic that I've already started working on, but unfortunately, for reasons of confidentiality, I can't comment on it.
Miroslav Hric (Slovakia)
Miroslav Hric - The Artist of The Continents "Europe":
Not only the history of his hometown Banská Štiavnica in the western Carpathians of Slovakia, but also the legacy of his family is an obligation to the studied and award-winning numismatics artist Miroslav Hric, which the coin designer successfully continues with his meticulous and creative work in the 21st century and holds it in honor. And art moves mountains, this is how Hric artistically implemented the idea for the first draft of the new silver coin series The Continents by Le Grand Mint owner Ali Sabbagh with flying colors. In September 2021, the 4808-meter-high Mont Blanc gleams in silver on the in-house Le Gand Mint gem "Europe". Reason enough to introduce the artists: We conducted the interview with the visual artist remotely via email, because Miroslav Hric At the time of the conversation at a medal and coin fair in the Slovak capital, Bratislava, he was cultivating old and new contacts with mints and colleagues from the wonderful world of numismatics. The whole artist portrait and interview on ReiseRobby.de
Original Script of the Artis-Interview with Miroslav Hric
ReiseRobby: How would you describe your job yourself? Miroslav Hric: I am a fine artist specializing in bas-relief sculpting. I design and produce sculptural models which are to be used in mints. I consider my work to be more than just a business or an article of commerce. I see my work as my contribution to the present and legacy for the future world of numismatics. For this reason I have studied the art of sculpture for many years in order to master all the artistic crafts and subsequently transform them into exceptional designs. The passion for low relief modelling runs in our family. My grandfather was a coin engraver in Kremnica mint and my father was a medallist. Thanks to that I have gained deep affection for the art of coin and medal and valuable experience.
ReiseRobby: What was your first thought when you heard about the Mont Blanc-motif of the series the continents? Miroslav Hric: My first thought... Read more on: